MissMeowni - Cute Cats and their tantrrrums
The couple that went crazy about cats
This is one of those stories that is worthy of being shared because it is the same story that many people, like Leonardo and Maria Ximena, who have decided to adopt one or more cats and have become the standard bearers of love and care for these adorable animals.
Source: http://www.eltiempo.com
Two years ago, this couple, who are celebrating their sixth anniversary, started looking for their new family member. It was not an easy time, as María Ximena had just finished a long term employment contract and the issue had affected her.
Through a Facebook page they saw that someone was giving two cats up for adoption, initially they adopted one, but they became so attached that after only four months they decided they wanted to welcome another furry friend into their home. That's how Thorin and Molly arrived, little animals to whom they owe teachings such as the ability to love without dependence and not letting themselves be carried away by appearances. 
Some time later they moved and made their dream of having a room just for their cats come true. The bedroom was really big, so they thought there was more than enough space for another cat in need of a roof over its head to live in, and most important, in need of a loving hoomin family.
"We catified the space with shelves and other furnitire so that they could climb, because cats love to see everything from the top. We also adapted a cat hammock on which they love to get on and have cat parties. We also put cat toys in their room, two sandboxes away from the food plates, scrapers and a sofa for the visitors," they say.
Cat Cafes are the best place
After a visit to a 'Cat Café' they fell in love with Nube, a cat with black and white fur, and did not hesitate to take her to their little cat paradise.
They say they are not ashamed to say that they suffer from "cat obsession" because they love cats and believe faithfully in their healing power in the lives of human beings. "They are extraordinary animals that really give love and help with many things at home. We are crazy about cats and we love them, we believe that more and more of us are starting to fall in love with them. Once one of them comes into your life you are at a point of no return," they say.
Source: www.eltiempo.com 
The first feline family member was Thorin, who they call the king of the house. Then came Molly, the oldest of the three. She helps to stabilize the mood of those around her with her purring. And last but not least, there is Nube. Being the smallest, she is characterized for being playful and cheerful.
Source: https://www.facebook.com/parcerosfelinos/
Their obsession with these animals has been such that it became almost a daily necessity for them to take pictures of their lovely pets, they began to upload them to social networks and decided to open a fan page with the name 'Feline partners'. There they have managed to gather more than 50,000 people on Instagram and Facebook.
Source: https://www.facebook.com/parcerosfelinos/ 
Thanks to this space they have met many stories of cats that have changed the lives of other people going through difficult times. One of those stories that has impacted them the most is one from a user who told them about the recovery process of her adopted kitten who had fractured her spine after falling from a sixth floor. 
We are living in a catified world and everyone should live the experience of having a cat as a company like this wonderful couple in order to see the magic that these PAWsome pets bring to a home!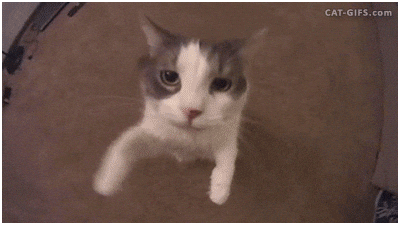 Comments